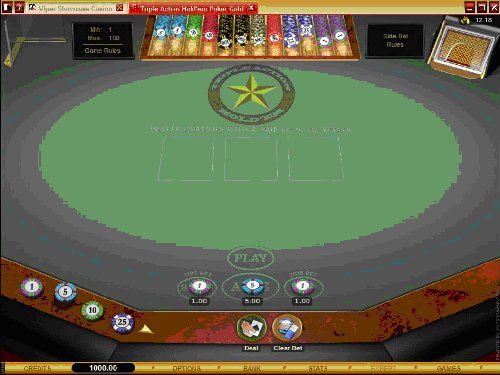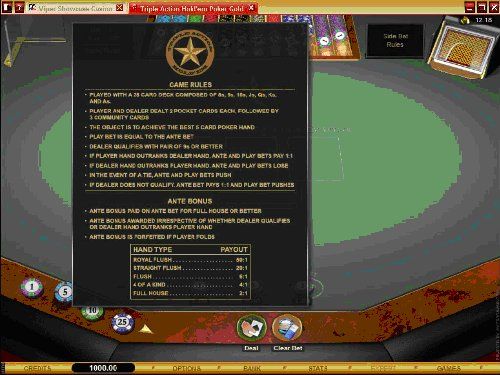 Released March 2010
The first impression of Rich Reel Casino's newest table game, TRIPLE ACTION HOLD 'EM BONUS POKER, confirms that it is rightfully an addition to our special Gold Series of superbly designed, innovative and beautifully presented offerings. Created to the highest standards technology allows, the new arrival gives the player smooth gameplay and unprecedented quality and realism.

This is a single player game, which uses a special deck of 28 cards composed of Eights, Nines, Tens, Jacks, Queens, Kings and Aces.

The player competes against the house dealer. More opportunity is presented in an additional Ante Bonus - the Extra Ante Reward - which is paid on the Ante bet for any player hand that is a Full House or better, regardless of whether the Dealer qualifies or the Dealer hand outranks the player hand.

Despite its sophisticated appearance, Triple Action Hold 'Em Bonus Poker is a relatively easy game to master, and the virtual felt carries easily referenced player guides on the rules of the game. These allow for 2 side Bets, an optional Bonus bet and an optional Flop bet.

Rewards achievable in this magnificent example of online gambling entertainment are 5 200.00 on the Main Bet, 500.00 on the Flop Side Bet and up to 5 000.00 on the Bonus Side Bet.

The goal of the designers on this innovative game was to provide entertaining action on a platform of precision animation, digital sound, pinpoint graphics and imaginative player views to deliver a truly realistic player experience.

Take the player seat at the elegant, burr walnut framed table on this latest evolution in Internet gaming with a real chance to use skill and good cards to win big. Playing Texas Hand Hold 'Em Bonus Poker Gold is a special Internet experience not to be missed - at Rich Reels Casino now.